Skip to Content
Customized Toilet Partitions in Southwest MI
Bosker Brick Co knows that there are no standard looks or measurements for bathrooms, and the fixtures and accessories need a tailored solution to fit the space. Our clients are continuously looking for quick and price-friendly customized solutions for their toilet partitions in Southwest MI and surrounding areas, and we deliver what they need. We offer custom steel partitions that are built from only the highest-quality parts and materials, and we always stand by our commitment to supplying them with the perfect fit to suit a restroom project. Our toilet partitions are guaranteed to fit the space needed, and they're designed to provide durability for years after they're installed.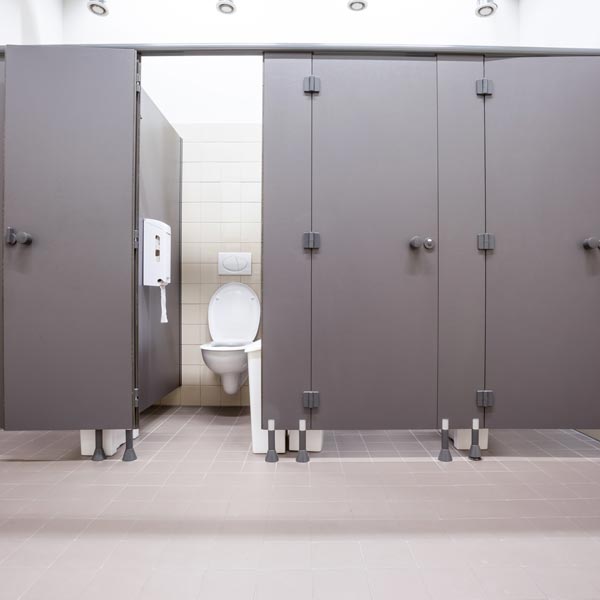 Secure Lockers & Benches for Commercial Space
In addition to toilet partitions, we also sell lockers and benches for security and convenience in changing rooms. Gyms, office parks, and other facilities can get the storage and space for clothing, gym bags, and whatever needs a secure spot. All of our products, including those for bathrooms and changing rooms, are made with the best materials and designed to be durable and to fit the required space perfectly. Bosker Brick Co is the leading supplier for the biggest commercial construction companies in and around Southwest MI, providing toilet partitions, lockers, and a wide array of items to cover the needs of any commercial construction project.
Honest, Upfront Service for Your Building Supplies
When it comes to commercial construction projects for restrooms in offices and other spaces, you want to build it with the best-quality, durable fixtures and accessories designed to fit the dimensions perfectly. At Bosker Brick Co, we give you the customized solutions you need quickly and affordably so you can complete your project on time, on budget, and to the satisfaction of your clients. Bosker Brick Co will help you stay on track with our comprehensive list of available commercial building supplies, and our dedication to integrity and family values ensures that you're getting honest, upfront service from our friendly and knowledgeable staff. For questions or to get started on your next project that requires toilet partitions in Southwest MI, give Bosker Brick Co a call today!
Get Quality Building Supplies at Competitive Prices!